Marketing for Shopify Partners
I'm Keir Whitaker — A product & engagement marketing specialist helping Shopify focused businesses attract new customers, build their reputations, and help their merchants prosper.
A Bit of History
Hello! I'm a product and engagement marketing consultant based in Bath, UK.
Today I specialise in helping Shopify focused app companies, theme developers, and agencies grow and thrive with a relevant, friendly, and educational approach to marketing.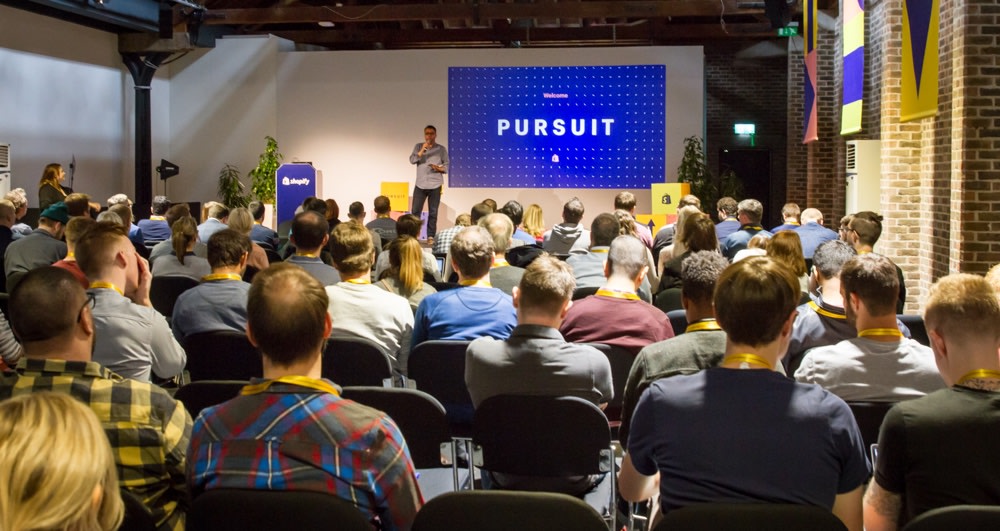 I've been working in the web and technology industry since 2000 and have held a number of roles in web design & development, product marketing, content strategy, event production, and team development and leadership.
6+ Years at Shopify
Before starting my own consultancy business I spent six years working at Shopify. In 2012 I joined the Partner Program team with the responsibility of promoting the benefits of Shopify as a platform and business opportunity to the web design and entrepreneurial community.
I worked on many educational and content focused marketing campaigns including the Grow series of books, technical and business webinars, online courses, and the Shopify Partner blog.
I gave away thousands of beautifully designed t-shirts, worked on conference stand designs, ran Liquid and theme building workshops, presented at conferences including Unite and MC'd numerous conferences including Pursuit. I was also lucky enough to build and lead a team of highly motivated and talented individuals who helped bring these ideas to fruition.
After six and a half years I decided the time was right to bring my experience and knowledge of this unique ecosystem to app companies, theme developers, and agencies who need help standing out from the crowd.
Product & Engagement Marketing for Shopify Focused Businesses
It's more important than ever for businesses to engage with their customers, clients, and users in more meaningful ways. The era of one-way broadcast marketing is over.
Today businesses are eschewing traditional marketing tactics and are instead focusing on building long-term meaningful relationships through content, education, and in-person events.
Through understanding the problems your app, theme, and agency solve and a deep knowledge of your target audience we'll be able to deliver marketing that's:
Relevant — The right message at the right time
Personal — Aimed at individuals and not your "customer base"
Educational — Designed to help your customers be the best they can be
Friendly — Delivered in a style that's compatible with you and your values
Things we'll look at include:
Positioning — Determine who your product or service is for and what problem it solves
Language — Consistent easy to understand language is key to impactful messaging
Awareness — Tactics and ideas to help build an understanding about your products
Education — Helping your customers and clients to become more successful on their journey
If you would like to discuss how I can help your business I offer a free 30 minute 1:1 consultation. We'll take a close look at your current marketing activities, discuss your ambitions and identify opportunities to help you get there.
What is Product Marketing?
Product marketing is focused on understanding, and marketing to, customers. This includes helping position a product as well as creating the right messages to help drive understanding and growth. It involves working on personas, helping guide the interface, launch strategies and on-going communication around the product and its development.
What is Engagement Marketing?
Engagement marketing involves the use of content, education, customer service, and in-person events to help build meaningful relationships with the people who use, or will use, your products and services. Marketing today is shifting from one-dimensional broadcast tactics to a focus on the long term value of happy and loyal customers.
Conferences, Events, & Workshops
Since 2011 I have presented at a number of conferences in Europe and beyond. Additionally, I have devised and delivered workshops focusing on Shopify theme building, the Liquid template language, ecommerce, working in the web industry, podcasting, and the value of side projects.
As well as speaking at events, I have also been involved in producing and curating workshops and conferences. In 2016 as part of my work at Shopify my colleague Cat Hunter and I put together the first A Day With Shopify conference in Bristol, UK. It attracted 150 Shopify Partners from 13 countries and was the forerunner of a five-country tour in 2017, and morphed into Pursuit for 2018.
These experiences have given me a unique insight into the value of in-person events and the benefits they can bring to a business. Helping select speakers, craft their story, and hone their presentations has been a very rewarding experience and one I hope to do more of.
Previous Positions & Projects
2011–2014 — For three years I worked on a number of side projects with Elliot Jay Stocks under the banner of Viewport Industries. These included Insites: The Book (Free PDF Download), Digest (Free PDF Download) — a one-off lifestyle large format magazine, and Insites: The Tour — a four cities in four days tour chatting with web industry pioneers about their journey.
2011–2012 — I worked as freelance web developer, with a focus on HTML, CSS, JavaScript, PHP and WordPress development
2011–2012 — During this period I was also honoured to work as an editor with the amazing team at Smashing Magazine. I helped curate and edit articles that appeared weekly and was privileged to work with writers at the forefront of the web industry.
2008–2010 — I worked in a variety of roles at Carsonified (acquired in 2011), the UK based company known for web-focused events such as The Future of Web Design and The Future of Web Apps. Additionally, I hosted and produced the podcast Think Vitamin Radio (full site no longer active). The show made the shortlist for the annual .net awards two years running, which was nice. If asked, I say it came joint second in 2010!
Pre 2008
Prior to moving to the West Country from London in 2008, I worked at a small web development agency with a focus on large scale data-driven web applications as well as undertaking a variety of freelance projects. Pre 2004 I held a number of mostly web related positions in the NHS (National Health Service) in East London, UK.
Before the internet was even a thing I worked at the Royal Albert Hall in the box office. I have many funny tales from this era, feel free to quiz me if we meet.
Say Hello
If you would like to learn more about how I can help your Shopify focused business I offer a free 30 minute 1:1 consultation. Fill in the form and I'll get back to you within one working day with more details. Alternatively, if you fancy a chat or have something to say then please feel free to get in touch.