Latest Articles
September 19, 2017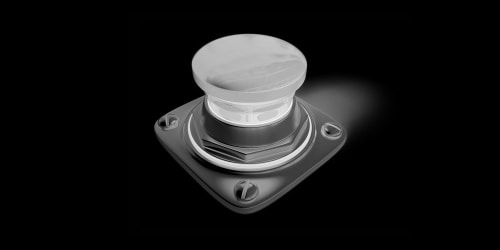 A week ago Kieran and I dusted off the microphones for another Back to Front Show episode. You can listen to it here or subscribe on iTunes.
In this episode we catch up on what's happened in our lives since the last recording, discuss the latest goings on at Medium, ponder why the Guardian doesn't write listicles and end on probably the best API in the world!
You can find the full show notes on Back to Front Show web site.
September 09, 2017
Last week I headed to Birmingham for the first edition of the Shopify Partners 2017 A Day with Shopify event series. While being the first in 2017 it's actually an iteration of the event Cat and I put together in Bristol last year. We learnt a lot from our "trial" event and have added some new features for this year's series.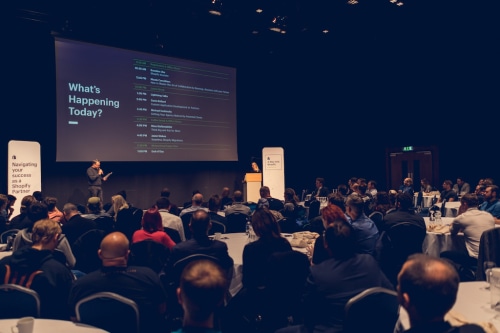 The day was a great opportunity for Partners to come together and chat through the challenges they face, share lessons they have learned, and build new friendships and business relationships. One of the main pieces of feedback we get after these events is that they represent a great touchpoint for people to meet and bring their online relationships into the real world.
July 15, 2017
Recently I've been looking into some new Shopify and Liquid features that were recently announced.
One thing that caught my eye, and quietly slipped into the platform is the request object. If you are using the same theme over multiple storefronts then this might come in very handy.
Both request.host and request.path allow you to access both the domain and the full path being requested. Fair enough but why is this useful?
Often store owners will prefer a local domain for their store — this may be due to using different currencies or offering different stock. In effect everything but the theme files are different. Each theme might also require subtle differences — for example, different shipping notifications or regional offers.
While there were ways to achieve this prior to the introduction of the request object this now makes it much simpler. Here's an example:
This simple switch means it's not possible to include domain specific logic and only maintain one theme for use across multiple storefronts.
I haven't come up with the perfect use case for request.path yet but potentially it could be used to do an absolute check for a particular product in a particular context — i.e.
as opposed to:
You can find out more about these new features in the Shopify docs.
July 14, 2017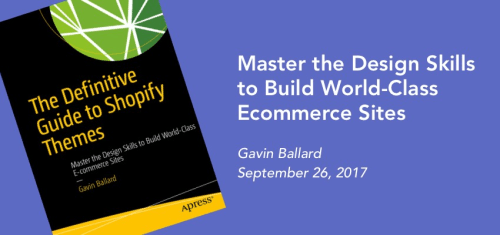 Earlier this year I was asked if I would be willing to be the "tech reviewer" on an upcoming Apress publication on Shopify themes. Given that Louise was at the helm and Gavin was the author I jumped at the chance.
Despite being involved with content for many years it's the first time I've worked with a "traditional" publisher. It's amazing to see how much goes into a book, especially a book of this nature. Many times Gavin had to revisit completed chapters as new features, and a whole new look and feel to the Shopify admin, were announced and launched.
Gavin's done an amazing job of guiding the reader through building a theme from concept to launch and, while I am biased, I think this book will be a fantastic addition to anyone working in the Shopify ecosystem. The book also will be accompanied by all the source code examples.
June 28, 2017
At the tail end of 2016, I was invited to appear on a soon to be released podcast called The Remarkable Business Show hosted by Jon Moss. Jon and I met many years ago through a mutual friend so it was a very quick yes from me.
Jon's been working on a bunch of episodes and I am delighted to say that the show we recorded is now live on the show's site and below.
During the episode we discuss:
The power of Shopify as an e-commerce platform
Software we can't live without
Brands we like
Recommended books
I think it turned out pretty well, but I am biased.
You can also listen to the episode on the Remarkable Business Show site and subscribe to the show in iTunes.
May 30, 2017 |
Earlier this year I published an article titled Rebuilding keirwhitaker.com with Jekyll which documented my move from the Slim PHP micro-framework to Jekyll.
In that article I described how I used Jekyll to add a blog function to this site. One thing I didn't add at the time was the ability to leave comments on posts. I don't intend to open comments on most posts but I figured it would be a quick win to add them to the site for the odd occasion that they might be required.
May 25, 2017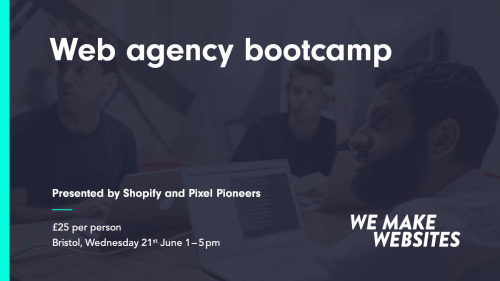 My long time friend and renowned ex-editor of net magazine Oliver Lindberg recently announced a new conference series called Pixel Pioneers. The first event takes place in Bristol on Thursday, 22 June 2017 at the M Shed.
The day before we, as in Shopify Partners, decided it would be fun to team up with Pixel Pioneers to host a workshop pre-event called "Web Agency Bootcamp". This four-hour workshop will be hosted by WeMakeWebsites founders Piers Thorogood and Alex O'Byrne and is dedicated to helping you grow your freelance or web agency business.
WeMakeWebsites is the UK's leading Shopify design agency. Over the last seven years they have moved from building websites for anyone to specialising in ecommerce for high growth startups for clients across the world.
April 27, 2017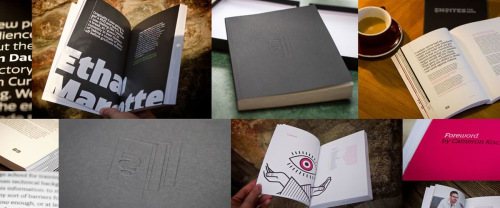 NB: This offer is now CLOSED — thanks to everyone who bought one of the last few copies of the book.
In 2012 Elliot Jay Stocks and I published the 256-page "Insites: The Book" under our, now closed, Viewport Industries banner. The book featured 20 interviews with 21 of the web industries finest practitioners.
Recently our publisher found a small stack of copies in their warehouse. If you would like to grab a copy then we are happy to get one to you for a mere £5 which will cover postage and packaging of the weighty book. All orders will instantly be sent the electronic versions of the book.
You can buy today via my Back to Front Show podcast store.
I'm happy to answer any queries you might have — please leave a comment below and I'll get back to you.
March 28, 2017
Over the years I have tried literally hundreds of apps for time management, project management, writing, presenting, email, communicating, sharing — you name it I've probably installed it.
Only a handful of apps have stood the test of time and are used on a daily basis. I've always enjoyed reading about what other people use so thought I would document my own setup here.
This isn't an exhaustive list, I've excluded everyday workhorses like Google Docs and Sketch, but here are 20+ Mac and web-based apps that I would be hard pushed to live without.
February 27, 2017
I've always been fascinated by transport related branding, particularly that of the Jet Age. The liveries, uniforms, baggage tags, and terminal buildings take you back to an era long since forgotten since the dawn of "budget" air travel.
This morning I spotted three innocent saucers in a flower bed in my son's infant school playground. For some reason the little bird in a blue circle caught my eye. On closer inspection my initial thoughts were correct — the logo was the BOAC speedbird.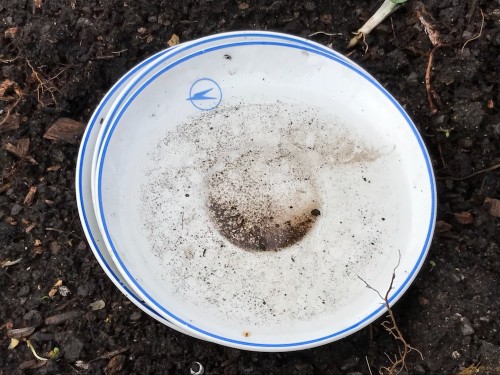 BOAC (British Overseas Airways Corporation) was the British state-owned airline created in 1940 by the merger of Imperial Airways and British Airways Ltd. In 1971 Act of Parliament merged BOAC and BEA with effect forming what we today know as British Airways.
February 20, 2017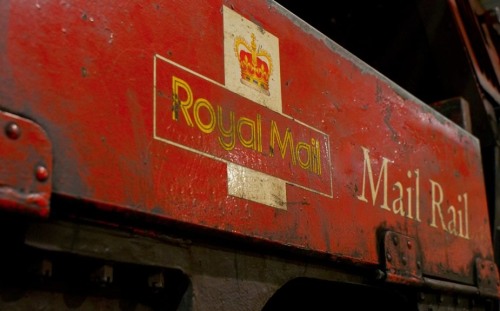 Perhaps it's a sign of ageing but I seem to becoming more interested in planes, trains and BBC2 documentaries — happily they occasionally coincide. Such was the case last week when I was catching up on a few episodes of Great British Railway Journeys on iPlayer. In this particular episode presenter Michael Portillo was privileged enough to descend underground for a visit to the now disused London Mail Rail. I have always been fascinated by underground networks and this is no exception.
It's been out of service since 2003 and was closed as it was apparently loosing the Post Office over £1 million pounds a day. It's hard to believe that pneumatic powered driverless trains were sending mail across London since the 1930's. Paddington to Whitechapel took around 14 minutes non-stop, I doubt above ground transit is so quick.
February 14, 2017
Last December Shopify Partners hosted the inaugural "A Day with Shopify" in Bristol, UK — a one day event bringing together the Shopify Partner ecosystem for a day of learning, sharing, and networking.
You can read a full report on the Shopify Partner Blog which includes a write-up of the unique pre-event "Strange Bingo"!
What started off as a "what if" idea last September turned into reality when we launched in late October. Ultimately, 100+ partners, from 12 countries, and a full quota of the Shopify team spent the day hearing from six speakers covering a wide variety of topics from growing your agency to how to turn an app into an income. Whilst the keynotes were great I have heard that the conversations during the day, and especially on the guided tour of Brunel's steamship SS Great Britain, were also extremely valuable and have led to numerous collaborations.
I had the pleasure of being MC for the day — it's something I enjoy and having a lot of friendly, and familiar faces, in the audience added to the fun. Bar one sweaty moment involving a livestream and the sound emerging from, of all places, the projectors speaker all went well.
We'll be hosting more events in later 2017. Keep an eye on the Shopify Partner Blog and social accounts for updates.
February 12, 2017
I forget where I first came across the work of Magnus Walker — perhaps Top Gear? A LA transplant from Yorkshire, UK he's turned his obsession and passion for Porsches into a fully fledged business.
Urban Outlaw is a portrait of Magnus Walker, the rebel Porsche customizer who turned a hobby into an obsession, and an obsession into a successful business. From a workshop in downtown Los Angeles, Magnus obsessively harvests fragments from donor 911s, grafting them onto vintage frames to create one-off automobiles with the spirit of Ferdinand Porsche but an ethos entirely his own.
This film is a fascinating insight into his work and his car collection. If cars aren't your thing the California scenery is equally breathtaking.
Urban Outlaw — The Movie by Tamir Moscovici
January 12, 2017
Most weeks I receive an email asking for help getting started with Shopify themes. I've written on this topic before on the Shopify Partner blog but thought it might be helpful to have a post here too.
Learn Liquid
If you are new to Shopify the one thing that might at first appear daunting is Liquid. Liquid is the template language used to build theme templates. Luckily it has a very readable syntax and many powerful features. I produced the 30 minute video below in 2016 and cover all aspects of Liquid.
January 10, 2017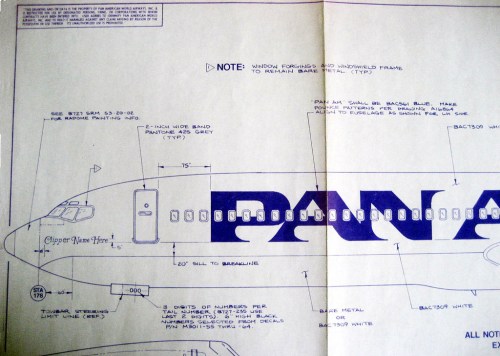 I have always had a real interest in maps and schematics — from Beck's London Underground map to cut aways of Formula 1 cars!
A few years ago I came across this blueprint of how to paint a Pan Am 727 — it dates from around 1989. Having watched numerous sped up videos of planes being liveried I have the upmost respect for this craft.
(View the original by Telstar Logistics on Flickr)
A full list of articles is available in the blog archives. You can also subscribe to RSS updates, and see a full list of my contributions to third-party publications. Selected articles are also availabe on Medium.