It Doesn't Have to be Lonely at The Top!
1-1 Coaching for Shopify Focused Founders
Are you a solo founder wearing multiple hats and spinning too many plates? Do you feel stuck with nowhere to turn for help, support, and advice? Do you find it hard to prioritise, move forward and feel positive about your business? Learn more about how I can help you and book a free no-obligation consultation today →
Eliminate Roadblocks
Building, growing, and running a business is tough. It's full of stops and starts, small decisions that can have big impacts, and financial pressures. It's easy to feel paralysed and unsure of what to do. I'll help you see through the fog and support you in making the right decisions.
Get Direction
Identifying what's wrong is the first step. Next, you need to work out what to do. This is not about a detailed task list but setting up a trajectory that you and your team can buy into. Together we'll work out what needs to be done and put it into simple, actionable activities.
Move Forward
A plan of action is great, but who will keep you accountable as time passes? I'll be there week on week to question, challenge and support you as you make decisions that will impact the growth and success of your Shopify focused business.
What's Holding You Back?
Over the last three years, I've helped solo founders of Shopify focused businesses tackle many different issues. Do you recognise any of these?
You think you're profitable but you don't really know

Your clients tend to lead you and don't listen to your advice

Creating a proposal fills you with dread and takes far too long to pull together

You don't know how to differentiate your business from your closest competitors

When times are hard you say yes to any job, even when you know the client is a bad fit

You know you need to raise your prices but are scared the work will dry up

You don't have time to work on your business as you're too busy working in it

Your prospects are always looking for the quickest and cheapest solution

A site launch has been delayed by the client and you've not been paid as a result

You need to grow but the thought of leading a team fills you with dread
Coaching for Early Stage
The early stages of your business are exhilarating, full of energy and promise. There's so much to learn — from which agencies are leading the way to which apps are stealing the limelight in the Shopify App Store. I'll help you navigate the expanding ecosystem so you can focus on what matters and what doesn't.
Coaching for Growth Phase
You're moving forward, and the graphs are charting up and to the right. Your team will grow, and your day-to-day will begin to change. You'll be pulled in a million (and one) directions. From product decisions to people issues, it's hard to know where to begin! I'll help you prioritise and work on the most critical issues.
Coaching for Scaling Stage
Your business is thriving, and you spend your days looking forward whilst leaning back in your brand new Aeron chair. A year ago, you dreamed up fun ways to build buzz — today; it's all about HR and team 1-1's. As your challenges change, so will our focus. I'll give you the support and advice you need to build a great team.
The Benefits of Coaching
A problem shared is a problem halved! Together we'll work hard to tackle issues like those above. We'll eliminate the roadblocks, help you get direction, and incrementally move things forward.
My ongoing support and regular coaching sessions will help you:
Identify the problems and issues holding you back

Prioritise what's important and what's not

Discover new ways of packaging and selling your services

See new ways to position your business in the market

Learn tried and proven tactics to help develop a strong team culture

Create shorter and more effective proposals and pitches

Bring a laser focus to your copy, website, and content

Be confident in the decisions you make for you, your team, and your clients
Michael Salvo
Founder Whitecap SEO
1-on-1 business coaching with Keir has been a godsend, and has really accelerated our ecommerce marketing agency to the next level. Keir is thoughtful and dedicated, and the strategic guidance, insights, and direction he provides is incredibly valuable. I believe every Shopify Partner can benefit greatly from working with Keir.
Chathri Ali
Former COO Recharge
Keir was instrumental to the success of our third annual user conference, ChargeX Summit 2019. His ability to curate our speaker list, as well as prepare speakers for each keynote and panel, was invaluable. Adding Keir to our event was like adding a superpower boost to our team. I wouldn't plan a conference without his insight and support.
Björn Forsberg
Founder FORSBERG+two
Keir brought his wealth of experience and knowledge to help plan the marketing strategy and roadmap for my Shopify apps. His insights have been invaluable in growing the business, and in a way that was perfectly tailored to my goals. Keir not only brings his wealth of knowledge, but his great personality and humour. A pleasure to work with.
Who Am I, Anyway?
Hello! My name's Keir Whitaker — that's me down there, waving my hand. I'm an advisor and coach focused on working 1‐1 with founders and leaders of Shopify focused agencies and app companies to help them build and grow their businesses.
I've earned my living in the technology, web, and SaaS sector for over 20 years. I'm a self-taught developer from the Web 1.0 days, and whilst I can no longer bring up a LAMP stack in under 90 seconds, I keep up to date on the latest developments.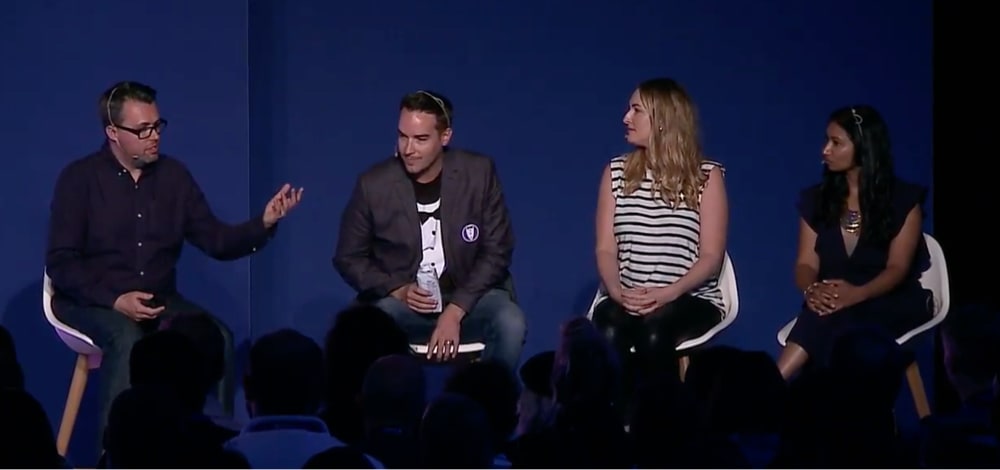 Before starting my consultancy, I worked at Shopify for almost seven years. I was one of the first 100 hires globally and the first in the UK. My work in the Partnerships team brought me into direct contact with freelancers, agency owners, and app developers every week — I learned their struggles, challenges, and paths to success.
Today, I work with clients across the world who have one thing in common — they run a Shopify focused business and have a desire to improve. We tackle everything from positioning and pricing to product and people through our regular working sessions.
Should you wish, you can read the slightly longer unabridged backstory!
Are We a Good Fit?
I love working with new clients, but my services aren't right for everyone. Depending on your goals and expectations, I may not be the right coach for you. However, there are a few ways to know if we are a good match for each other:
You run, or want to run, a Shopify focused service agency or app development business

You are willing to commit the necessary time and headspace to create positive change in your business

You understand the value of working with an external coach

You are ready to commit to turning up and doing the work on a consistent basis

You are open to critical questioning and direct feedback

You know things could be better but just don't know where to start

You don't expect quick, overnight results
Questions?
Q: This sounds ideal! When can I start?

Fantastic! Step one is to complete my new client survey. From there, we can arrange an initial complimentary consultation and hammer out dates and times.

Q: How much will this cost me?

I currently offer my coaching and mentoring service for £2,500 + VAT (if applicable) per month. It's a set fee based on access and not hours. By working together I agree to invest time and headspace directly in you and your business. You may only meet me 1-1 every other week, or contact me in Slack now and again but, you know I'll be there ready to help.

Q: Is there a minimum term?

Yes. I politely ask that we agree to a three-month initial engagement — here's why.

The first few sessions together can feel a bit messy and unstructured. It takes time to get to know each other and dig into the issue(s). Experience has shown me that the really good work starts 4-6 weeks in. Neither of us wins if we quit early — great work takes time. A three-month initial engagement ensures we are invested in the project's success.

During our third month of working together, we'll meet to discuss the current situation and work out the best way to proceed together.

Q: I'm based outside of the UK. Can we still work together?

Absolutely. I currently work with clients in Europe, the USA (EST & PST), Canada and beyond. Some early starts and late finishes on either side may be required, but we usually make it work!

Q: Can you help us implement the strategies and tactics you recommend?

My current service offerings do not involve strategic implementation or tactical execution. However, I am fortunate to know a lot of talented practitioners who I will happily introduce to you.

Q: May I speak with a couple of references about working with you?

Of course, please get in touch, and I'll join the dots.
Less frequently, but equally important, asked questions can be found in my client FAQ.