Expert Advice for Shopify Partners
Consulting & Coaching for Shopify Agencies & App Developers
Is your Shopify agency or app business keeping you up at night? Are you unsure how to market your new Shopify app or position your agency in the ever-expanding pool of competition? If this sounds familiar, then it's time to talk!
Through my consulting and coaching services, I've helped businesses like yours define their positioning, build sustainable marketing strategies, refine their pricing, and build better teams. My goal — to help you attract new customers, build your reputation, and grow your business.
For Shopify Agencies
I worked in the Shopify Partners Marketing team from 2012–2018. Having met and collaborated with 100's of Shopify Partners I am uniquely equipped to understand the challenges your business faces in the increasingly competitive and expanding Shopify ecosystem.
For Shopify App Developers
From idea and product-market fit to attracting and retaining customers running an app business is a constant uphill battle. I'll help you define your ideal customers, talk their language, and work out a marketing strategy to help your business grow.
For Founders & Leaders
It's easy to neglect your personal growth when running a business. Today's founders and team leaders wear many hats and are stretched in multiple directions. I'll help you navigate the challenges you face, suggest and discuss ways forward, and help you make the right decisions.
Eliminate Roadblocks, Get Direction, Have a Plan
After 7 years at Shopify I left to start my own consultancy. My goal — to help businesses like yours thrive. My intimate knowledge of the Shopify platform, coupled with my understanding of the ecosystem, and my passion for entrepreneurship enables me to bring a unique perspective to you and your Shopify focused business.
I Help Shopify Agencies Answer Questions Like
How do we start marketing our agency more effectively?

How do we display "thought leadership" to our clients?

How do we measure success?

How do we demonstrate our expertise to potential clients?

How do we move away from time and materials based pricing?
I Help Shopify App Developers Answer Questions Like
How should we position our app in the Shopify App Store?

How do we package features to create effective and profitable pricing plans?

How do we get free users to move onto a paid plan?

How can we find out what our customers love, and hate, about our app?

How do we promote our app to the leading Shopify agencies?
I Help Founders & Leaders Answer Questions Like
How do I measure my team's performance effectively?

How can we stop our team members feeling burned out and unmotivated?

How can I get better at delivering feedback to my team?

How should I structure my team's regular 1‐1's?

Should we do annual employee reviews?
Can I help you answer questions like these? Email me at hello@keirwhitaker.com and let me know your burning issues. You can also book a free initial consultation.
Reserve Your Free Consultation
Before we begin please complete my short survey. It's designed to help me understand you, your business, and the challenges you are facing. After receiving your answers I'll get back to you within 48 hours to book your complimentary 60-minute conversation.
Let's Talk About Fit
My services aren't for everyone (that's by intention). However, if you recognise yourself in the statements below they are probably a great fit for you!
You run, or want to run, a Shopify focused business

You have a Shopify focused agency and need help with positioning, pricing, and/or promotion

Your Shopify app is technically great, it solves a real problem but the installs aren't happening as fast as you need

You're a solo founder who needs a critical foil to help you work through those gnarly topics such as creating proposals, working out what to charge, and how to measure success

You have great people but need help figuring out how to create a highly functioning team

You are prepared to invest in dramatically improving your business through expert advice and on-going support
Let's Start the Conversation
If you're ready to start transforming your business do me a quick favour and complete my short online survey. It's designed to help me understand you, your business, and the challenges you are facing. After receiving your answers I'll get back to you to book a time to discuss how I can help.
What Others Have Said
1-on-1 business coaching with Keir has been a godsend, and has really accelerated our ecommerce marketing agency to the next level. Keir is thoughtful and dedicated, and the strategic guidance, insights, and direction he provides is incredibly valuable. I believe every Shopify Partner can benefit greatly from working with Keir.Michael Salvo — Founder, Whitecap SEO
Keir brought his wealth of experience and knowledge to help plan the marketing strategy and roadmap for my Shopify apps. His insights have been invaluable in growing the business, and in a way that was perfectly tailored to my goals. Keir not only brings his wealth of knowledge, but his great personality and humour. A pleasure to work with.Björn Forsberg — Founder, FORSBERG+two
Keir was instrumental to the success of our third annual user conference, ChargeX Summit 2019. His ability to curate our speaker list, as well as prepare speakers for each keynote and panel, was invaluable. Adding Keir to our event was like adding a superpower boost to our team. I wouldn't plan a conference without his insight and support.Chathri Ali — COO, ReCharge
Keir has been instrumental to the success of our business in the Shopify ecosystem. Whether editing my book The Definitive Guide to Shopify Themes, connecting us to people in his vast network, or developing creative marketing strategies, he's been a pleasure to work with.Gavin Ballard — CEO, Disco
Keir is an absolute pleasure to work with and never fails to surprise us with the depth of his skillset and the reach of his network. His understanding of the opportunities and challenges presented by the Shopify Partner Ecosystem is invaluable and attests to his involvement in the pouring of its very foundations. His keen eye for the 'real' information and the key objectives for success has helped us to focus and streamline how we operate, market and support our apps.Union Works — Shopify App Developers
Keir has an incredible knack for building relationships with colleagues, business partners, and specific audiences. He led massively successful international campaigns using his talents in content creation, marketing, and creative ideation. His industry connections, thought leadership, and strategic intuition make him an invaluable asset when it comes to building a brand that resonates.Courtney Symons — Chief Writer, Office of the CEO Shopify
I've had the pleasure of collaborating with Keir over the past few years on a number of projects including blog posts, podcasts, classes, events and more. His expertise, guidance and humor related to all things e-commerce and technology has made every one of these experiences both successful and a delight.Ross Beyeler — COO, Trellis
Having collaborated for the best part of a decade, I can wholeheartedly recommend Keir to those of you looking for level-headed industry advice and expert guidance. Keir has a remarkable knack of clarifying situations in a way that helps you see solutions for yourself, meaning his support often extends far beyond his original engagement.Cat Hunter — Ecommerce Content Specialist
We have the pleasure of taking Keir's advice many times at Milk Bottle Labs. As a regular contributor to our Milk Bottle Labs Podcast, Keir always shares one golden nugget of Shopify knowledge leaving listeners both entertained & educated. Keir is, without doubt, one of the most professional, passionate, energetic, dedicated, and trustworthy individuals I have met since joining the Shopify ecosystem.Keith Matthews — Founder, Milk Bottle Labs
We were new to the Shopify ecosystem when we connected with Keir. His insights and thoughtful suggestions have really accelerated our knowledge and success with Shopify. Thank you!Bob Braham — CEO, Famous
Who Am I Anyway?
Hello! My name's Keir Whitaker (that's me down there, waving my hand). I'm a UK based business consultant and coach dedicated to helping Shopify focused agencies, app companies, and technology partners attract new customers, build their reputations, and grow profitable businesses.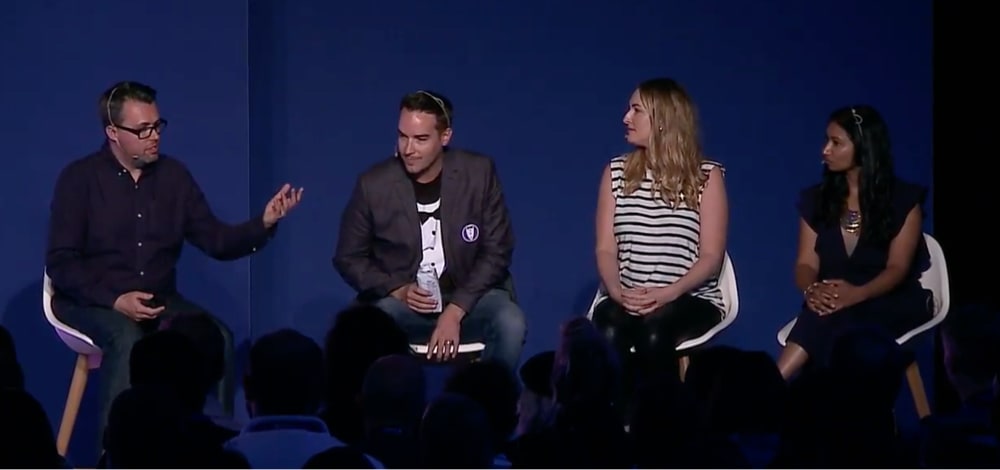 I've been earning my living in the technology, web, and SaaS sector for almost 20 years — both independently and for companies including Shopify where I worked for almost 7 years.
My road to consulting has been long and varied and has included web development, product marketing, content strategy, event curation, and educational based inititatives. I've also held numerous leadership positions.
Some Facts
I have a background in web development, technical content, marketing, events, and building teams

I built my first Shopify theme in 2007!

I was one of the first 100 employees at Shopify and worked on the Partnerships Marketing team for almost 7 years

I founded my first web development agency in 2004 and have worked with a wide range of clients in many different sectors

I have a passion for small business and entrepreneurship and relish working with founders and leaders

Since January 2019 I've worked exclusively with Shopify focused app companies, service agencies, and technology partners
Feel free to ask me anything or read the longer version!
Recent Clients
I've worked with the best of the best in the Shopify ecosystem
Frequently Asked Questions
Q: How do I know if I'm a good fit for your services?

To help us work this out, I'll ask you to complete a short survey designed to help me understand more about you, your business, and the challenges you are facing. Being as open and honest as possible in your replies will help me determine if I can help you move forward. If I believe I can, I'll say so, and of course, if I can't, I'll try and introduce you to someone who can.

Q: How do you work with your clients?

I'll act as your strategic advisor. I'll ask the hard questions to help you make the most informed decisions and invest in helping you and your business move forward incrementally. We'll meet weekly for online working sessions during our engagement, and you'll have 24/7 access to me via Slack/IM/email. On our calls, we can get into the meaty topics — in-between, I'm available for feedback and to answer those burning questions.

Q: How much will this cost me?

Ah, the money question! Every engagement is tailored to your exact requirements, and as such, prices will vary. As of October 2021, my fees start from £1,575 for a weekly consulting session and 24/7 access via Slack/IM/email.

Q: I'm based outside of the UK. Can we still work together?

Absolutely. I currently work with clients based in the USA, Canada, Australia and Europe. Some early starts and late finishes may be required, but I usually make it work!

Q: What if I want to speak with you on an ad hoc basis?

Not a problem. I offer a bookable paid (£295 + VAT) consultancy call service for this very reason. Simply fill in my quick survey and select the "I'd like to book a paid consultancy call" option.

Q: Can you help us implement the tactics you recommend?

As my business has grown, I no longer have time to engage in tactical activities. However, I am fortunate to know a lot of talented writers and marketers who I will happily introduce to you.

Q: Can my co‐founder and/or team members join our working sessions?

For consultancy absolutely — just let me know who'll be on the call in advance, and we'll be good to go. Coaching is slightly different; this is a 1‐1 service.

Q: Will you sign an NDA or confidentiality agreement?

I understand that the Shopify ecosystem is relatively small and well connected. We'll likely know the same people. However, my reputation rests on the fact that I keep our conversations private. If you would like me to sign an NDA/confidentiality agreement, please let me know in my initial survey.

Q: May I speak with a couple of references about working with you?

Of course, please get in touch and I'll join the dots.
Still have questions? Please get in touch and I'll get right back with the answers.
Reserve Your Free Consultation
Before we begin please complete my short survey. It's designed to help me understand you, your business, and the challenges you are facing. After receiving your answers I'll get back to you within 48 hours to book your complimentary 60-minute conversation.