Marketing & Business Consulting for Shopify Partners
I'm Keir Whitaker — A marketing and business consultant helping Shopify focused companies attract new customers, build their reputations, and grow profitable businesses.
Conferences, Events, & Workshops
Since 2011 I have presented at a number of conferences as well as devised and run workshops covering Shopify theme building.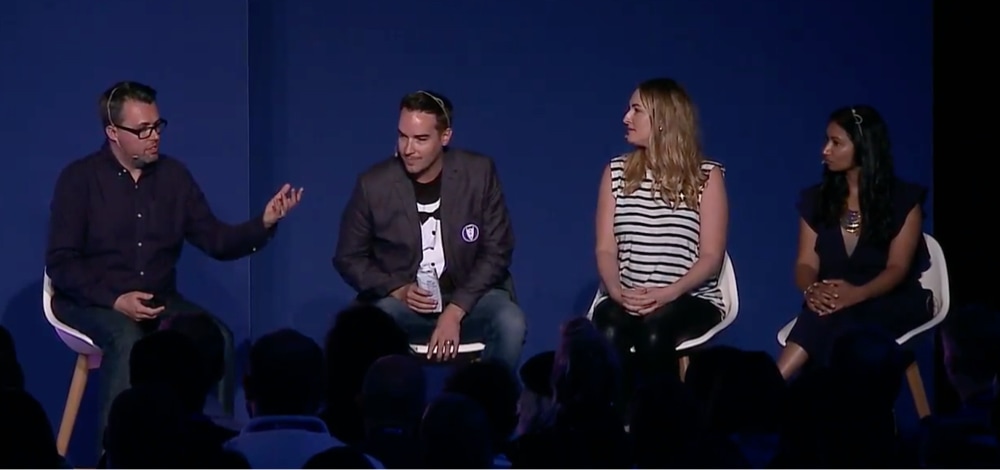 I have also co-hosted a number of events with a focus on side projects, small business, and personal growth. Occasionally I also get to MC events — something I always welcome the opportunity to do.
Please feel free to get in touch if you would like me to participate in your event.
2019
2018
Shopify Pursuit (MC)

October 2018 / London, UK

The Power of Community at Shopify Unite 2018

May 2018 / Toronto, Canada
2017
A Day with Shopify (MC)

September 2017 / Brimingham, UK

Web Agency Bootcamp (MC)

June 2017 / Bristol, UK

Shopify: Lunch & Learn at OFFSET

February 2017 / Dublin, Ireland
2016
Strange Bingo (MC)

December 2016 / Bristol, UK

A Day with Shopify (MC)

December 2016 / Bristol, UK

Shopify Theme Building Hints, Tips, Tricks & Hacks at Shopify Meetup

November 2016 / Dublin, Ireland

Shopify: Lunch & Learn at Reasons To

September 2016 / Brighton, UK

Shopify Theme Building Hints, Tips, Tricks & Hacks at Shopify Meetup

September 2016 / Leeds, UK

An Evening with Shopify at WeWork Paddington

September 2016 / London, UK

Shopify Theme Building Hints, Tips, Tricks & Hacks at Generate Conf

September 2016 / London, UK

The Future of Commerce at Shopify Meetup

May 2016 / Dublin, Ireland

ConfConf (MC)

May 2016 / Bristol, UK

Growing Pains: Lessons Learned Growing an Agency (MC)

April 2016 / New York, USA
2015
An Afternoon with Shopify at Beyond Tellerrand

November 2015 / Berlin, Germany

The Platform Economy

October 2015 / Brooklyn, USA

Growth Hacking for Ecommerce

September 2015 / London, UK

Shopify: Lunch & Learn at Generate Conf

September 2015 / London, UK

The Ecommerce Economy

June 2015 / London, UK

Shopify Theme Building Workshop at Second Wednesday

June 2015 / Nottingham, UK

An Afternoon with Shopify at Beyond Tellerrand

May 2015 / Düsseldorf, Germany

Shopify: Lunch & Learn at Generate Conf

April 2015 / New York, USA

DotYork (Theme Building Workshop)

April 2015 / York, UK

Shropgeek: The Shopify Economy

February 2015 / Shrewsbury, UK

ConfConf: Seeking Partnerships

January 2015 / Birmingham, UK
2014
An Afternoon with Shopify at Beyond Tellerrand

November 2014 / Berlin, Germany

The Web Is: The Web Is All Consuming

October 2014 / Cardiff, Wales,

Shopify: Lunch & Learn at Generate Conf

September 2014 / London, UK

Shopify for Designers (Theme Building Workshop)

August 2014 / Dublin, Ireland

Shopify for Designers (Theme Building Workshop)

August 2014 / Bath, UK

C4DI (Theme Building Workshop)

August 2014 / Hull, UK

Shopify for Designers (Theme Building Workshop) at MK Geek Night

June 2014 / Milton Keynes, UK

Shopify for Designers (Theme Building Workshop) at Second Wednesday

April 2014 / Nottingham, UK

Shopify for Designers (Theme Building Workshop)

March 2014 / Oxford, UK

Second Wednesday: A Pragmatists Guide to Making your Side Projects Pay

March 2014 / Nottingham, UK

MK Geek Night All Dayer (Panel MC)

January 2014 / Milton Keynes, UK
2013
An Afternoon with Shopify: The Ecommerce Opportunity

December 2013 / San Francisco, USA

An Afternoon with Shopify: The Ecommerce Opportunity

November 2013 / Belfast, UK

An Afternoon with Shopify + Holstee

October 2013 / Brooklyn, USA

Reasons to be Creative: Building Online Businesses

September 2013 / Brighton, UK

Hyper Island (Theme Building Workshop)

September 2013 / Stockholm, Sweden

Shopify: Lunch & Learn at Generate Conf

September 2013 / London, UK

Shopify for Designers (Theme Building Workshop)

August 2013 / Chicago, USA

ConfShop

July 2013 / London, UK

Shopify for Designers (Theme Building Workshop)

June 2013 / Manchester, UK

Shopify for Designers (Theme Building Workshop)

June 2013 / Boston, USA

Shopify + TechHub (Theme Building Workshop)

June 2013 / London, UK

MK Geek Night: Adventures with Google Page Speed

March 2013 / Milton Keynes, UK
2012
Handheld: How to Turn a Side Project into a Business

November 2012 / Cardiff, Wales,

HD Live: Turning a Side Project into a Business

November 2012 / Hull, UK

Future of Web Design: How to Turn a Side Project into a Business

November 2012 / Prague, Czech Republic

Pragmatic Web Design Workshop with Elliot Jay Stocks

August 2012 / London, UK

Shopify for Designers (Theme Building Workshop)

July 2012 / Birmingham, UK

Shopify for Designers (Theme Building Workshop)

July 2012 / Bristol, UK

Shopify for Designers (Theme Building Workshop)

July 2012 / London, UK

Shopify for Designers (Theme Building Workshop)

June 2012 / London, UK
2011