Event Strategy
Leverage the Power of In-Person and Online Events
Price on Application
Whether you call it event marketing, IRL (In Real Life), offline marketing, experiential marketing, or even field marketing I am a true believer that there's no better way to build relationships and trust with your users and customers than meeting face to face. Given the events of 2020 this will most likely be online but let's hope larger gatherings return soon. That said, the principles remain.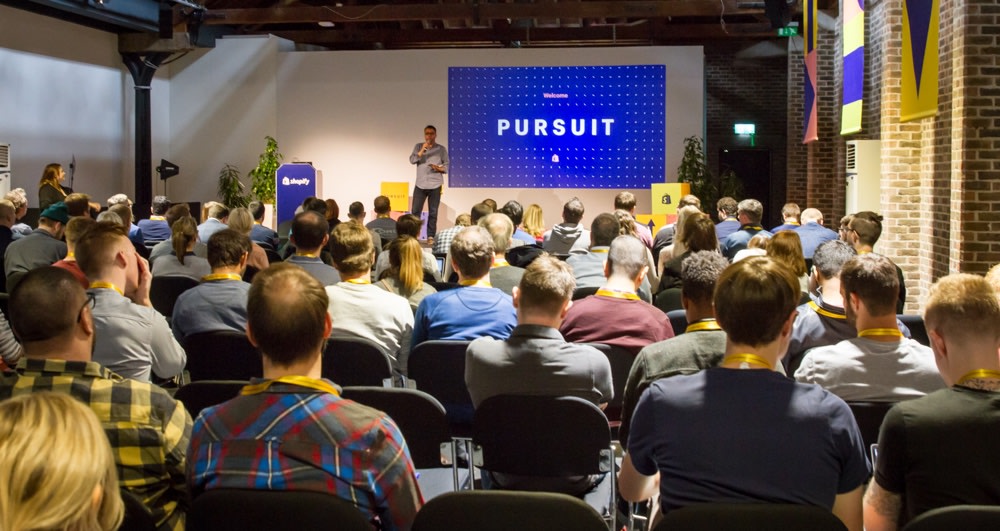 Over the last 15 years, I've attended 100's of events and have had the privilege of helping produce and curate many more including De:brief 2019. These range from web design conferences and workshops right through to Shopify Unite and the series of events that is now known as Shopify Pursuit.
Exhibits & Sponsorships
I've bought and sold sponsorship packages and been responsible for exhibiting at events and conferences around the world. I've even, on occasion, been asked to present at a few.
I'm not sharing this as some sort of "humblebrag" but rather to demonstrate that I've seen and tried most things when it comes to "field marketing". Learn from my trials and errors, and wins, and short circuit your companies in-person marketing success.
Get started with your event marketing strategy by booking a free 30-minute consultation. Complete my short online survey and I'll get back to you within 48 hours.
Take Your Event Online in 2020
If your event can no longer happen in person in 2020 have you considered taking your programming online? During lockdown, I've been researching and discussing strategies on how events can still prosper online. From which technology platform to pick, how to structure your content to maximise engagement through to ways to involve partners and sponsors I'm here to help.
Recent Event Strategy Engagements
Since starting my consultancy business I have worked with many high profile Shopify focused tech companies including:
A well known LA-based app company who asked for my input into their first self hosted conferences content narrative

A Shopify focused app company who asked for my input into which events to sponsor and how best to present their product at those events

A Shopify based agency who are hosting their first 200+ person conference and needed help with everything from programming through to their sponsor packages
Event consultancy varies massively from client to client. As a result, I tailor every package based on your needs, your timescale, and your budget.
I Can Help With
Your event marketing strategy including which conferences to sponsor, how best to exhibit, and pitfalls to avoid

Creating a realistic ROI framework to measure sponsorship success

Advice on how to produce educationally focused giveaways to showcase your product and expertise

How to create themes for your conference and work with presenters to build a strong narrative to your event

How to create a sponsorship package that works for you and your partners

Budgets including ticket pricing and logistical costs

Sharing the long list of gotchas that you'll want to avoid
Kickstart your event marketing strategy by booking a free 30-minute consultation. Complete my short online survey and I'll get back to you within 48 hours.
Still Have Questions?
Q: How have you worked with other companies so far?

Every engagement has been a little different. Some involve regular weekly sessions, others are more ad-hoc as the need arises. Given the varying nature of event consultancy, I tailor every package accordingly.

Q: Do you just help with strategy?

No! I can also help you work through the logistical challenges of hosting a workshop, meetup, or conference. I've helped out with most things over the years and have experience across the event spectrum. That said, I am not an event producer but I can work with you to source the right people to make your event strategy a success.

Q: Will you be there on the day to lend support and advice?

Absolutely! I am happy to attend the event in whatever capacity we see fit and will account for this in my proposal.

Q: Do you just work on technology-based events?

Yes. My event experiences and expertise have been forged over the last 15 years working in the web design and technology industry. Over the last 8 years, I have focused on ecommerce and specifically the Shopify ecosystem. While many skills are transferrable you'll get the best from me if you work in ecommerce with a focus on Shopify.
Still got questions? Please get in touch and I'll get right back with the answers.
Reserve Your Free Event Strategy Consultation
My short survey is designed to help me understand you and your businesses event needs. After receiving your answers I'll get back to you within 48 hours to book your complimentary 30-minute consultation.