July 14, 2017
The Definitive Guide to Shopify Themes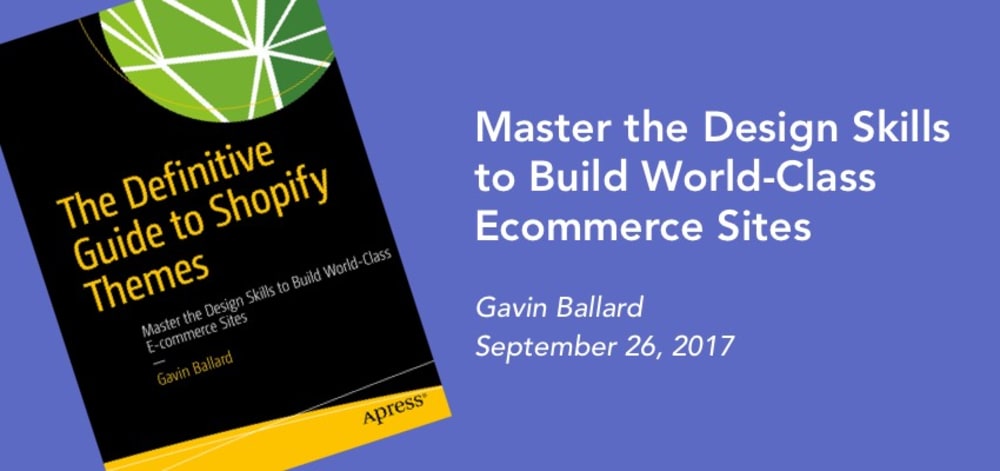 Earlier this year I was asked if I would be willing to be the "tech reviewer" on an upcoming Apress publication on Shopify themes. Given that Louise was at the helm and Gavin was the author I jumped at the chance.
Despite being involved with content for many years it's the first time I've worked with a "traditional" publisher. It's amazing to see how much goes into a book, especially a book of this nature. Many times Gavin had to revisit completed chapters as new features, and a whole new look and feel to the Shopify admin, were announced and launched.
Gavin's done an amazing job of guiding the reader through building a theme from concept to launch and, while I am biased, I think this book will be a fantastic addition to anyone working in the Shopify ecosystem. The book also will be accompanied by all the source code examples. I'm a big fan of Gavin and it's great to see this come to life — it really was a pleasure to play a small part in its production.
The book is due for release in September but you can pre-order today from the Apress site.
eBook — £21.99
Softcover — £27.99
This article was written by Keir Whitaker and published on July 14, 2017. All articles are available in the blog archive and you can subscribe to the RSS Feed for updates. Have a question? Discuss this article with me by email.