April 26, 2019
Introducing De:brief 2019
De:brief 2019 is an exclusive half–day event for Shopify Partners taking place directly after Unite 2019 on Friday 21st June 2019 in Toronto, Canada.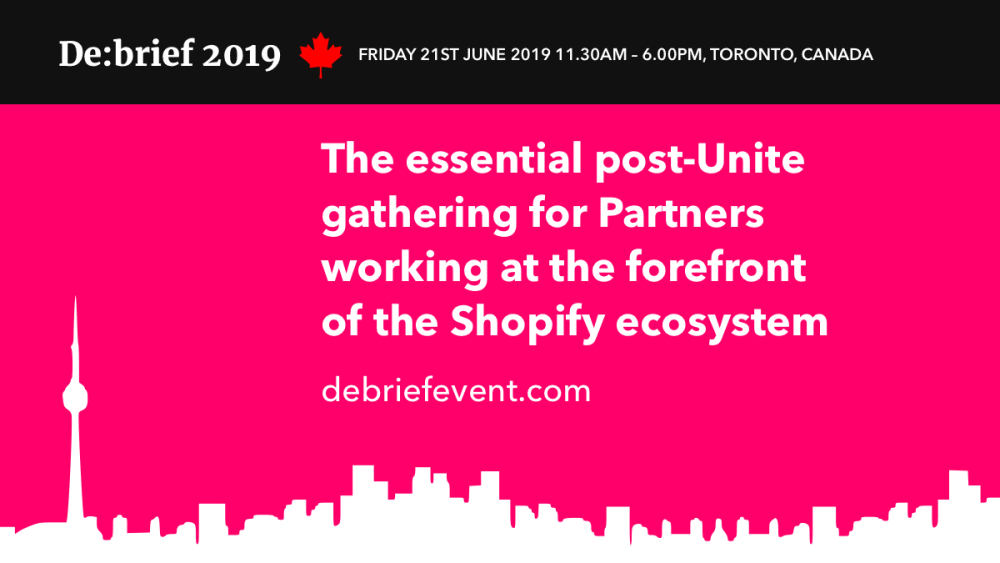 The event aims to bring insight, analysis and clarity to the announcements made at Shopify's annual Partner Conference. Tickets are $35 and spaces are limited. Reserve your seat today.
The Longer Version
During my time at Shopify, I really enjoyed being a part of the many events we hosted. From intimate technical workshops to conferences hosted in different continents and of course the annual Shopify Partner get–together Unite. Events were a pivotal part of our strategy and were a great way to bring the community together for everyone's benefit.
Being honest, I had no intention of spinning up a new event, at least one on a scale that I'd been involved in at Shopify and previous jobs. I knew I wanted to stay working in the ecommerce, specifically Shopify, ecosystem but with a focus on product marketing and content — not events.
However, with Unite on the horizon, I got to thinking about all the great conversations that happen in the coffee line, at satellite social events, and impromptu breakfasts during the event.
What if we there was a small, intimate post–Unite gathering that took those conversations to a slightly more formal setting. A setting where we could gather and discuss the announcements made during Unite and the impacts they will have on those of us working in the Shopify ecosystem.
Enter De:brief
After a conversation with Cat De:brief was born — a half-day gathering for Shopify Partners working at the forefront of the Shopify ecosystem. It's informal in nature but designed to enable us to share our thoughts and impressions on the impact of Unite.
Cat and I will be on hosting duties and will be joined by four expert panel hosts as well as many friends and colleagues to discuss all things Unite.
Full programme details can be found on the De:brief web site.
Limited Space
Tickets are $35USD and include brunch on arrival, refreshments, and farewell drinks. We'd love to see you there.
If you have any questions please feel free to get in touch.
This article was written by Keir Whitaker and published on April 26, 2019. All articles are available in the blog archive and you can subscribe to the RSS Feed for updates. Have a question? Discuss this article with me by email.