Speaking
Conferences, Events, & Workshops
Since 2011 I have presented at a number of conferences as well as devised and run workshops covering Shopify theme building.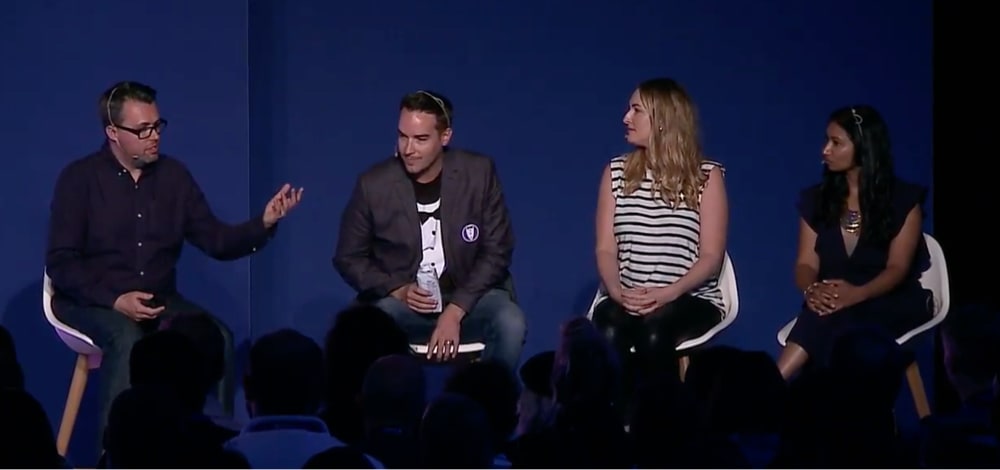 I have also co-hosted a number of events with a focus on side projects, small business, and personal growth. Occasionally I also get to MC events — something I always welcome the opportunity to do.
Please feel free to get in touch if you would like me to participate in your event.
2020
2019
2018
Shopify Pursuit (MC)

October 2018 / London, UK

The Power of Community at Shopify Unite 2018

May 2018 / Toronto, Canada
2017
A Day with Shopify (MC)

September 2017 / Brimingham, UK

Web Agency Bootcamp (MC)

June 2017 / Bristol, UK

Shopify: Lunch & Learn at OFFSET

February 2017 / Dublin, Ireland
2016
Strange Bingo (MC)

December 2016 / Bristol, UK

A Day with Shopify (MC)

December 2016 / Bristol, UK

Shopify Theme Building Hints, Tips, Tricks & Hacks at Shopify Meetup

November 2016 / Dublin, Ireland

Shopify: Lunch & Learn at Reasons To

September 2016 / Brighton, UK

Shopify Theme Building Hints, Tips, Tricks & Hacks at Shopify Meetup

September 2016 / Leeds, UK

An Evening with Shopify at WeWork Paddington

September 2016 / London, UK

Shopify Theme Building Hints, Tips, Tricks & Hacks at Generate Conf

September 2016 / London, UK

The Future of Commerce at Shopify Meetup

May 2016 / Dublin, Ireland

ConfConf (MC)

May 2016 / Bristol, UK

Growing Pains: Lessons Learned Growing an Agency (MC)

April 2016 / New York, USA
2015
An Afternoon with Shopify at Beyond Tellerrand

November 2015 / Berlin, Germany

The Platform Economy

October 2015 / Brooklyn, USA

Growth Hacking for Ecommerce

September 2015 / London, UK

Shopify: Lunch & Learn at Generate Conf

September 2015 / London, UK

The Ecommerce Economy

June 2015 / London, UK

Shopify Theme Building Workshop at Second Wednesday

June 2015 / Nottingham, UK

An Afternoon with Shopify at Beyond Tellerrand

May 2015 / Düsseldorf, Germany

Shopify: Lunch & Learn at Generate Conf

April 2015 / New York, USA

DotYork (Theme Building Workshop)

April 2015 / York, UK

Shropgeek: The Shopify Economy

February 2015 / Shrewsbury, UK

ConfConf: Seeking Partnerships

January 2015 / Birmingham, UK
2014
An Afternoon with Shopify at Beyond Tellerrand

November 2014 / Berlin, Germany

The Web Is: The Web Is All Consuming

October 2014 / Cardiff, Wales,

Shopify: Lunch & Learn at Generate Conf

September 2014 / London, UK

Shopify for Designers (Theme Building Workshop)

August 2014 / Dublin, Ireland

Shopify for Designers (Theme Building Workshop)

August 2014 / Bath, UK

C4DI (Theme Building Workshop)

August 2014 / Hull, UK

Shopify for Designers (Theme Building Workshop) at MK Geek Night

June 2014 / Milton Keynes, UK

Shopify for Designers (Theme Building Workshop) at Second Wednesday

April 2014 / Nottingham, UK

Shopify for Designers (Theme Building Workshop)

March 2014 / Oxford, UK

Second Wednesday: A Pragmatists Guide to Making your Side Projects Pay

March 2014 / Nottingham, UK

MK Geek Night All Dayer (Panel MC)

January 2014 / Milton Keynes, UK
2013
An Afternoon with Shopify: The Ecommerce Opportunity

December 2013 / San Francisco, USA

An Afternoon with Shopify: The Ecommerce Opportunity

November 2013 / Belfast, UK

An Afternoon with Shopify + Holstee

October 2013 / Brooklyn, USA

Reasons to be Creative: Building Online Businesses

September 2013 / Brighton, UK

Hyper Island (Theme Building Workshop)

September 2013 / Stockholm, Sweden

Shopify: Lunch & Learn at Generate Conf

September 2013 / London, UK

Shopify for Designers (Theme Building Workshop)

August 2013 / Chicago, USA

ConfShop

July 2013 / London, UK

Shopify for Designers (Theme Building Workshop)

June 2013 / Manchester, UK

Shopify for Designers (Theme Building Workshop)

June 2013 / Boston, USA

Shopify + TechHub (Theme Building Workshop)

June 2013 / London, UK

MK Geek Night: Adventures with Google Page Speed

March 2013 / Milton Keynes, UK
2012
Handheld: How to Turn a Side Project into a Business

November 2012 / Cardiff, Wales,

HD Live: Turning a Side Project into a Business

November 2012 / Hull, UK

Future of Web Design: How to Turn a Side Project into a Business

November 2012 / Prague, Czech Republic

Pragmatic Web Design Workshop with Elliot Jay Stocks

August 2012 / London, UK

Shopify for Designers (Theme Building Workshop)

July 2012 / Birmingham, UK

Shopify for Designers (Theme Building Workshop)

July 2012 / Bristol, UK

Shopify for Designers (Theme Building Workshop)

July 2012 / London, UK

Shopify for Designers (Theme Building Workshop)

June 2012 / London, UK
2011